日本語サイトへ
The Student Support Center, with the collaboration of ECHO UT, CASA, and the Indonesian Student Association in Ibaraki, will organize the
"Student Commons' SDGs RECYCLING PROJECT"!, in order to utilize the Student Commons (an exchange space for students), and contribute to the SDGs.
This project aims to collect "unnecessary items that can still be used" and transfer them for free to new (and not that new) students, during this timing of academic semester change (Aug-Sept).
Let's give to other students the items you don't use anymore!!
Only members of the University of Tsukuba (students, researchers, faculty and staff) can join this project.
★ Collection of reusable items
Period:
Aug 21st ~ Sept 15th, 2023. 10:00~16:00
*The collection period may end early if we receive too many items.
Location:
Student Commons (1A203 MAP) (If this room is closed come to the Division of Student Exchange (1A101))

Rules:
(1) Give the items for free
(2) Sign the ownership waiver letter
(3) Show us your student ID (or any ID)
(4) Don't bring any dirty or broken item

Items we accept…
Items with ALL sides (length, width or height) shorter than 50cm.
E.g.: Household goods (tableware, cutlery, pots, frying pans, kettles, kitchen tools, etc.), interior goods, laundry products, towels, curtains, extension cords, small shelves, electrical appliances (microwaves, toasters, electric kettles, stationery, rice cookers, hair dryer, iron, etc.), books (with no handwritings).

Items we don't accept…
Items with any side (length, width or height) larger than 50cm.
E.g.: Large appliances (refrigerators, air conditioners, TVs, personal computers, washing machines), furniture (desks, chairs, large shelves), clothing, food, and other heavily soiled or damaged items.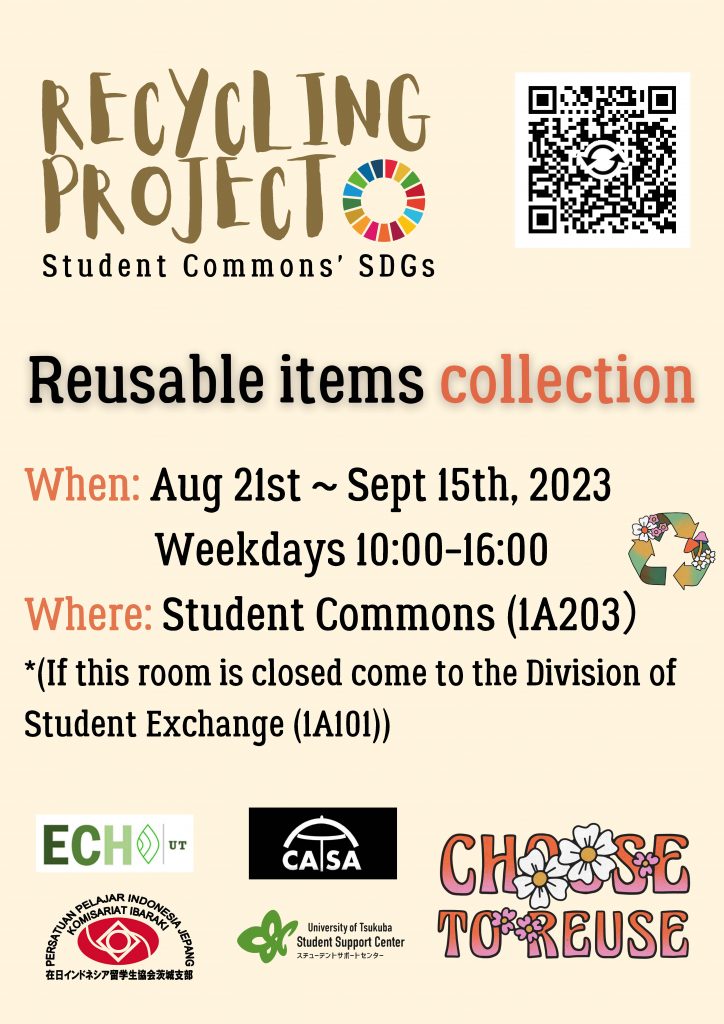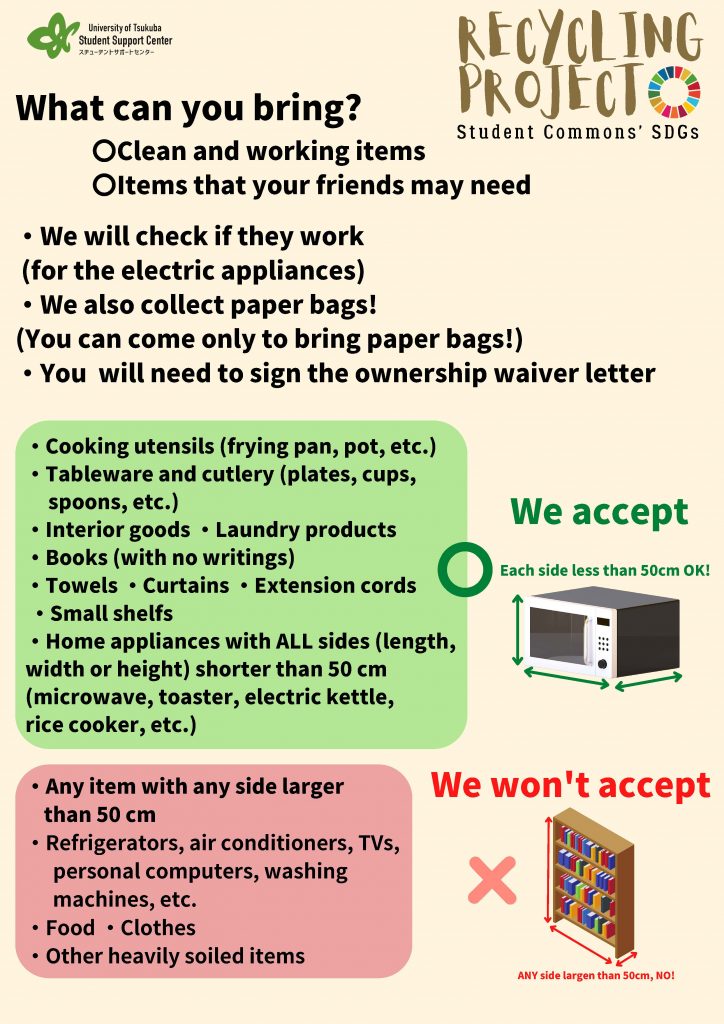 *If you want to donate any item whose sides are 50cm or longer: We will post the details as soon as we have more info!*
---
★Distribution of reusable items
Period:
Sept 20th ~ 21st, 2023. 10:00~16:00
Sept 26th ~ 28th, 2023. 10:00~16:00
☆Distribution will end as soon as the items run out☆
Location:
Student Commons (1A203 MAP) (Except for the days that this room is closed)
Rules for receiving items:
(1) First-come, first-served basis. You cannot make reservations.
(2) Present your student ID (or any ID). *Not limited to new students. All students are welcome!
(3) Bring a bag to take the items you want.
※There is no limit to how many you can take, but please do so within the bounds of common sense.
※One appliance is allowed per person.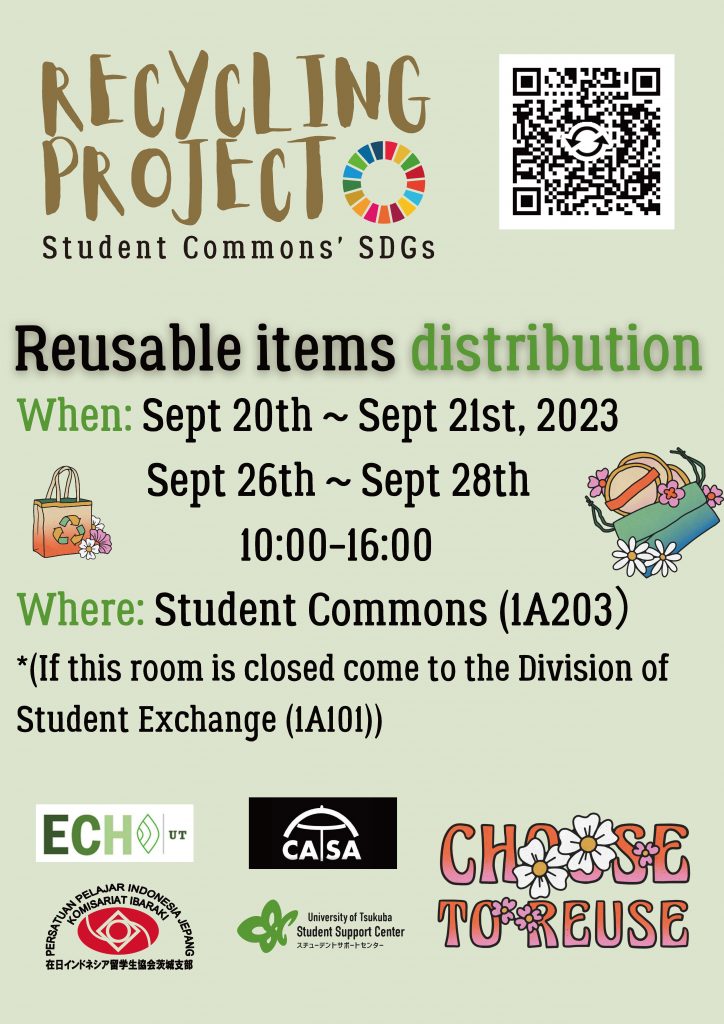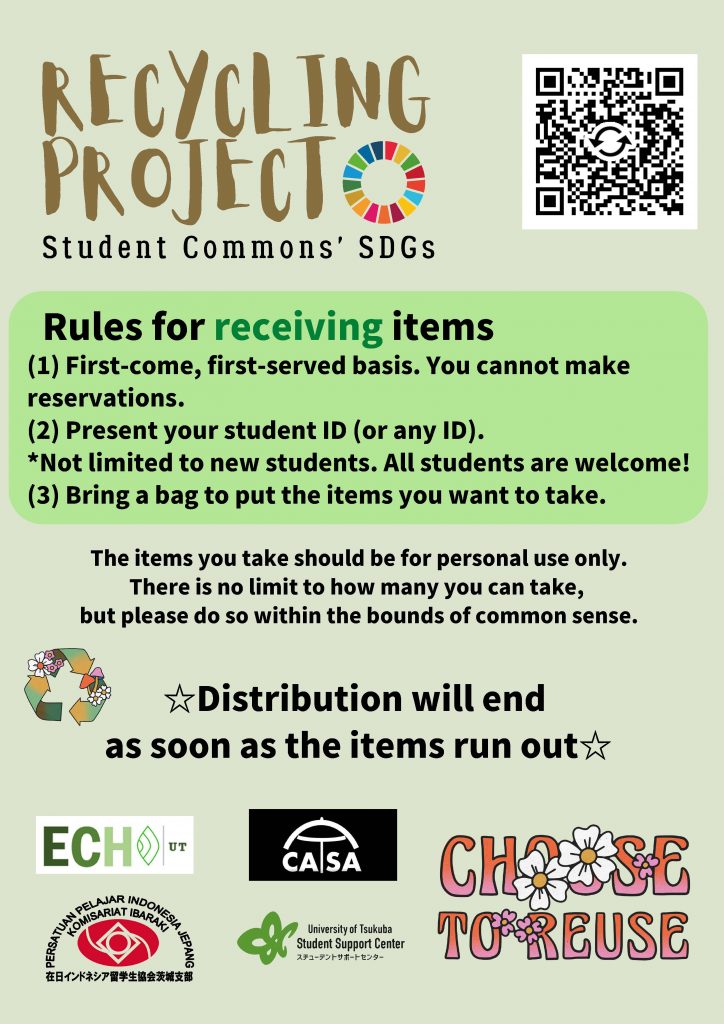 Organized by: Student Support Center, International Exchange Support Office (Division of Student Exchange)